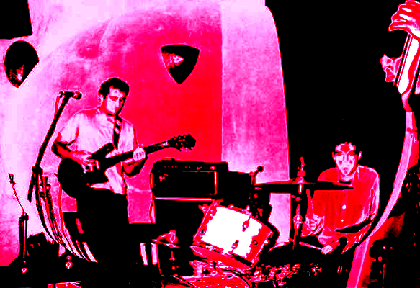 Spatula was a band active in Chapel Hill, NC from 1992 until 1998 and consisted of Chuck Johnson on guitar, Matt Gocke on drums, and Chris Eubank on cello and bass. They released 4 full-length recordings on the Jesus Christ and Squealer labels and numerous singles and compilation tracks. They formed in the heyday of Chapel Hill indie rock and subsequently developed their own niche within the late-90s "post-rock" milieu. Their music was characterized by dynamic, often bombastic forms contrasted with pastoral melodies.
Johnson and Gocke formed the group in 1992 and performed and recorded as a guitar/drums duo until they were joined by Eubank to record Medium Planers and Matchers in 1995. Eubank became an integral member of the group and Spatula continued as a trio until 1998. Over the years they worked with producers Bob Weston, Fred Brockman, and Jerry Kee, and toured the U.S. with bands such as Polvo, Trans Am, and the Coctails.
"Spatula are a band on the seashore staring in towards the traumatized, brooding, rain-sodden postwar landscape, a group struck mute by the awfulness of it all who can only interpret what they see through colourful, cavernous rhythmic structures, every chord a fractal raindrop, every melody a fluttering retreat". – Phil McMullen,  Ptolemaic Terrascope.
The Allmusic review of Spatula's final release Despina by Land
by Nitsuh Abebe
"All of Spatula's releases have been nothing short of brilliant, and Despina by Land seems like something of a pinnacle — the album follows 1996's rather minimal Under the Veil of Health with a return to the gorgeous three-piece composition of 1995's Medium Planers and Matchers. As those familiar with the band might expect, it's an excellently composed, subtle album which moves like jazz or post-rock, speaks like indie rock, and manages to get highly unconventional without truly getting abstract. Even more so than on some previous releases, the band's emphasis moves as much toward melodica, keys, and cello as it does toward bass and guitar: the opening "Voyage of the Slan" drones prettily along without feeling compelled to lapse into bombast, and only after a lengthy tonal development does the band break into angular guitar constructions, reminiscent of a smaller, less bombastic Don Caballero or early Pell Mell. Through all of the tracks which follow, Spatula's composition is equally keen — the album's songs are varied and complex, but never seem to stray from the band's central and idiosyncratic sound, or their primary set-up as a three-piece rock band. There's a careful and intelligent management of sound operating behind this: The album's drifting, downbeat moments are kept gorgeous, but given a slight edge that never makes the mistake of lapsing into a melodramatic explosion — and, like a post-rock project, the band finds its power in sweeping compositions rather than conventional crunches and wails. All of this is true, to some extent, of Medium Planers and Matchers, but Despina by Land pushes the sound into polished and fully realized territory — as always, Chuck Johnson's vocals thread their way in and out of a plush instrumental backdrop, clearing a space between indie rock, post-rock, and pure brilliance."
Spatula's discography:
"Break" and "Your Heart's Cold" from split 7-inch with Evil Weiner (Stay Free) 1993
"Dinghy" on A Day in the Park compilation LP/CD (Now Sound) 1994
"Pachinko" from split 7-inch with Tinsel (Over the Counter/ Load) 1994
"Radio Helmet" 7-inch (Now Sound) 1994
Even the Thorny Acacia CD (Jesus Christ) 1994
"Distance of the Moon" on Follow the Bouncing Ball compilation CD (Badabing) 1995
"Slipjoint" on Cognitive Mapping Vol. 2 compilation CD (Friction Media) 1995
Medium Planers and Matchers CD (Jesus Christ) 1995
Under the Veil of Health LP/CD (Squealer Music) 1996
"Three-legged dog" on CD accompanying Chunklet magazine 1997
Despina by Land CD (Squealer music) 1998