Photo by Dylan Ruggle 
Chuck Johnson improvises within the limits of simple analog circuitry and primitive hardware, often employing acoustic and internal feedback. As Pykrete he released Over Hylaster in 2004 on Cirrus Oxide and the No More Love to Give collaboration with Southern Man on Phaserprone in 2006. The double 12-inch LP Liber Novus was released in 2010 on FrequeNC.
Johnson also incorporates just intonation steel guitar with electronics, using difference tones generated by the guitar as a control source for a modular synthesizer.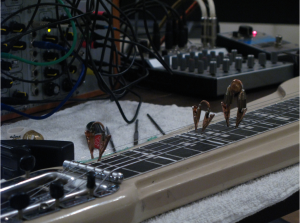 Pykrete at Myspace.