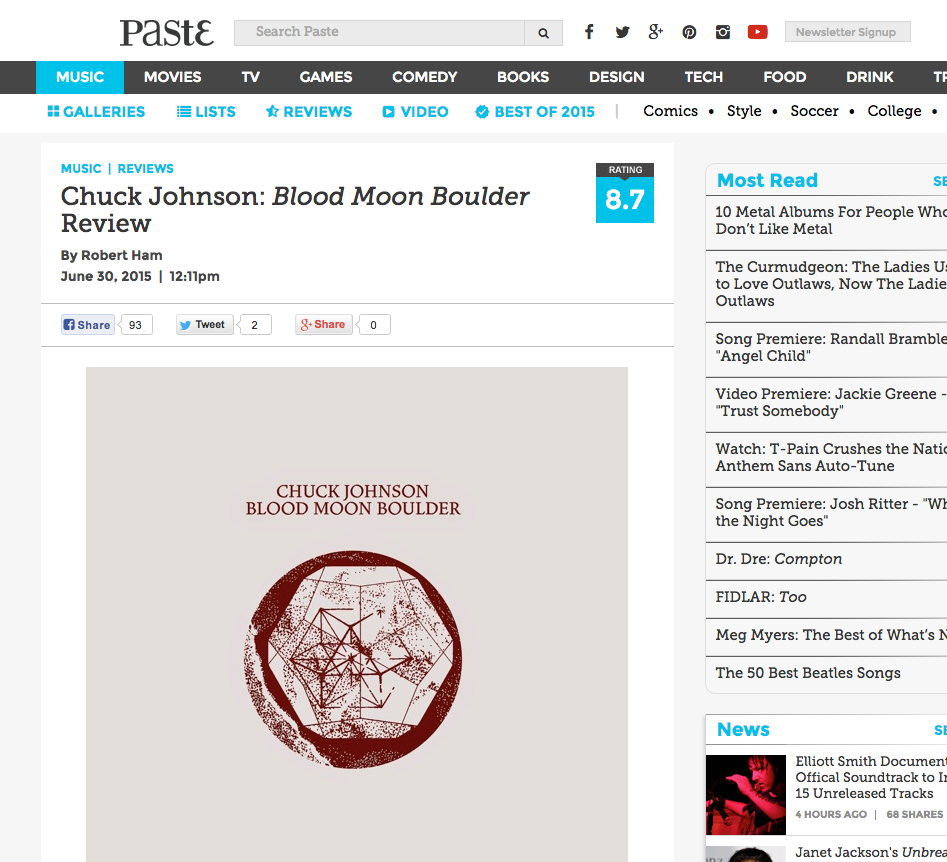 As guitarist Chuck Johnson continues his work in the American Primitive tradition, pulling from the long history of folk, blues, and gospel in his own compositions, his music has gotten much more melodically entrancing and deeply emotional. The opening track of his third full-length album, Blood Moon Boulder—the nearly 12-minute long "Corvid Tactics"—feels like its own little short story. Johnson builds that emotive resonance with the same calm that he uses to move between the finger-picked melodies and the raga-like slide guitar lines that swirl around each other. The song keeps evolving and expanding until a bouncy rhythm takes over that will leave you feeling as if you've burst through the clouds and are soaring in open sky.
While the sheer length of the songs that make up the rest of this touching LP ensure that they won't take the listener on a journey quite so expansive, the music still lands all the right beats, just on a smaller scale, such as when Johnson halts the otherwise playful and burbling "Silver Teeth in the Sun" in its tracks for a minute of long, drawn-out chords. When the original finger-picked melody returns, the mood of it has changed completely into something far more melancholic. Or there's the beautiful "Private Violence," which features a mournful electric guitar melody intercut with pedal steel and the occasional hum of a violin, that slowly dissipates into a grey wash of drone. It would not be a surprise to learn that some powerful event happened in Johnson's life before writing this material.
Of all the solo instrumental guitarists that are currently enjoying a groundswell in interest and acclaim, Johnson continues to prove himself to be one of the leading lights of this welcome revival. And with Blood Moon Boulder, he's moved even further ahead of the pack. The six songs here feel elevated not only by Johnson's impressive technique and writing but also his willingness to not leave anything covering up his musical intentions. Even if you don't know exactly what moment or memory helped inspired a particular track, the glowing core of sentiment at the center of each one is tangible and unmistakable.